■ Advantages
Overview
Ball mill is the key equipment for recrushing the materials after they are primarily crushed. It is widely used for the dry type or wet type grinding of all kinds of ores and other grindable materials in cement, silicate product, new building material, refractory, fertilizer, black and non-ferrous metals and glass ceramic industry.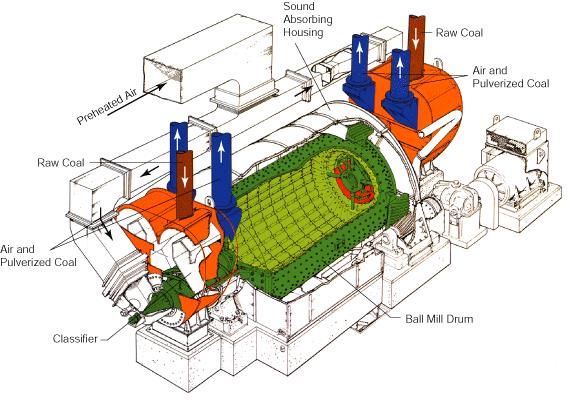 Advantages of Our Ball Mill
1. The main bearing is made of full diameter and double self-aligning rod bearing, instead of the former sliding bearing, which reduces friction and energy consumption. So the grinding machine is easy to start.
2. With big diameter discharging mouth and high production capacity.
3. Feeders include joint feeder and drum feeder, whose structure is simple and split installation.
4. Ball mill has no inertial impaction and is operated smoothly, which reduces the time of parking to maintain and increase its efficiency.
5. Reliable working condition, fine power production
■ Working Principle
Working principle of Ball Mill
This ball mill is a horizontal type cylinder rotating equipment which adopts outer gear transmission.
This machine mainly consists of feeding device, discharge device, rotating device, transmission devices (gear box, pinion gear, motor and electric control device). The hollow shaft is made of cast steel. The liner is replaceable. The gear wheel adopts casting gear hobbing. The wear-resisting liner is inlayed in the cylinder of ball mill.
This ball mill is a type of grate ball mill which has two chambers. Materials were feed into the first chamber through the hollow shaft screw. There are stair-stepping liner or corrugated liner and grinding balls of various sizes in the first chamber. Grinding balls will be taken to a certain height by the centrifugal force generated by the rotating cylinder and then fall down. In this way, materials are thumped and grinded.

After the coarse grinding in the first chamber, materials will be brought to the second chamber through the single-layer partition board. There are flat liner and grinding ball which can further grind the material. Finally, powder will be discharged through the discharge grate.