■ Advantages
Overview
Jaw crusher is mainly used for the medium-granularity crushing of all kinds of ores and large materials in mine, metallurgy, building material, highway, railway, water conservancy and chemistry.With simple and solid structure, reliable work, easy maintenance and repair and low production and construction fees, it has long been widely used in many industrial departments such as metallurgy, chemistry, building material, power plant and transportation. The maximum compression strength of the materials to be crushed is 320MPa.
Features and Benefits of Jaw Crusher:

1.Simple structure,reliable operation,low operating costs,convenient maintenance;stable performance,low operating costs;crushing ratio
2.Crushing chamber depth and no dead zone,increased capacity and output feed
3.The crushing ratio,uniform particle size
4.Gasket nesting population adjustment device,reliable and convenient adjustment range,increase the flexibility of the device
5.Lubrication system is safe and reliable,easy to replace parts,maintenance workload is small
6.Saving equipment:stand-alone energy-saving 15% to 30%,saving more than double the system
7.Nesting population adjustment range,to meet the requirements of different users
8.Low noise,less dust.
■ Working Principle
Operating Principle of Jaw Crusher:

The working manner of this series crushing machine is dynamic extrusion type, and its working principle goes like this:This machine is driven by motor. Through the motor's wheels, the eccentric shaft is driven by the triangle belt and slot wheel to make the movable jaw plate move by a regulated track. Therefore, the materials in the crushing cavity composed of fixed jaw plate, movable jaw plate and cheek plate can be crushed and discharged through discharging opening.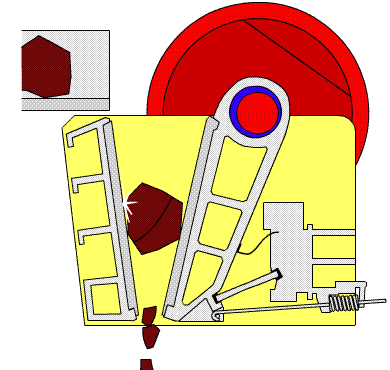 ■ Parameters
Main Specifications of our Jaw Crusher:
Model
Max feeding
Size (mm)
Adjusting range
of discharge
opening(mm)
Capacity
(t/h)
Motor power
(kw)
Total weight
(t)
Dimensions
(L*W*H)(mm)
PE-150*250
125
10-40
1-3
5.5
0.8
720*660*850
PE-250*400
210
20-60
5-20
15
2.8
1300*1090*1270
PE-400*600
340
40-100
16-60
30
7
1730*1730*1630
PE-500*750
425
50-100
40-110
55
12
1980*2080*1870
PE-600*900
500
65-160
50-180
55
17
2190*2206*2300
PE-750*1060
630
80-140
110-320
90-110
29
2660*2430*2800
PE-900*1060
685
230-290
230-390
110
33
2870*2420*2940
PE-900*1200
750
95-165
220-450
110
52
3380*2870*3330
PE-1000*1200
850
195-265
315-500
110
55
3480*2876*3330
PE-1200*1500
1020
150-300
400-800
160
100.9
4200*3300*3500
PEX-150*750
120
18-48
8-25
15
3.8
1200*1530*1060
PEX-250*750
210
25-60
13-35
30
5.5
1380*1750*1540
PEX-250*1000
210
25-60
16-52
30
7
1560*1950*1390
PEX-250*1200
210
25-60
20-61
37
9.7
2140*1660*1500