■ Advantages
Overview
Magnetic separator is suitable for the wet magnetic separation of the materials whose granularity is below 3mm such as magnetite, pyrrhotite, calcined ore and ilmenite and can also be used for removing iron from the materials such as coal, non-metal ore and building material.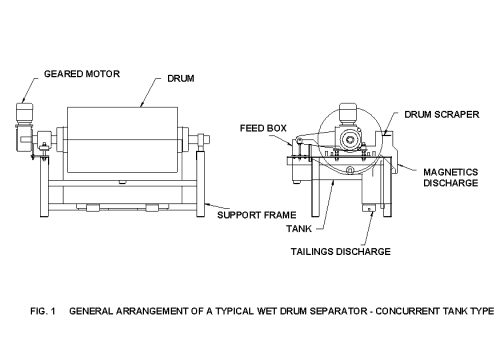 Advantages of Magnetic Separator:
Simple structure and easy to maintain
Short magnetic circuit
Little magnetic flux leakage
High magnetic intensity, low energy consumption
Fine beneficiating results
■ Working Principle
Working Principle of Magnetic Separator
The Magnetic Separator is used for separating crude mineral by different magnetic rigidities. The machine works under the magnetic force and machine force. Magnetic Separators are designed to recover ferromagnetic materials. The separators are available in designs and sizes to provide solutions for all applications. The heart of each separator is the magnetic system with its unique design, which has a proven record of high efficiency. The Magnetic Separators are available in cyclic design with process vessel Φ220 ~Φ3050 mm.