■ Advantages
Overview
Wheel sand washer is mainly used to washing and drying building material. It has high washing degree, reasonable structure and high output, and the driving part is separated from water and sand, so that its failure rate is far lower than the commonly used sand washing machine.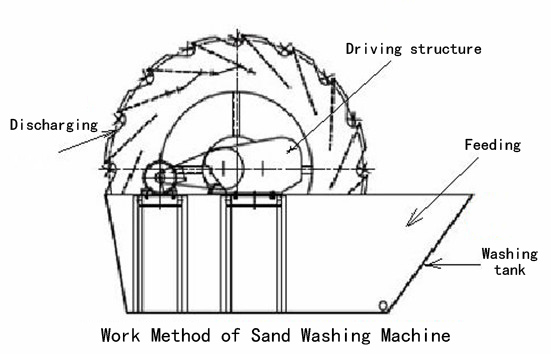 Advantages of Sand Washing Machine:
1. Reasonable structure, convenient maintenance.
2. High processing capacity and low power consumption.
3. Low of wearing parts consumption, low cost.
■ Working Principle
Sand washing machinery drives the impeller in the water groove to move like a circle transmitted by electric motor and decelerator, and then mixes, overturns, cleans and discharges the sand or slag pellets in the water groove.
1. It is of simple structure. The bearing device of impeller drive is separated from water and materials with water, to avoid in a large degree that the bearings are damaged by being soaked with water, sand or some polluted things.
2. When it is used for cleaning sand in quarries, it has many advantages compared with the traditional spiral one.
3.There is little loss for medium-sized and fine sand and stone powder. The grade and the fineness of the sand for construction after being washed can be up to the national standards, such as "sand for construction" and "cobble and broken stones for construction".