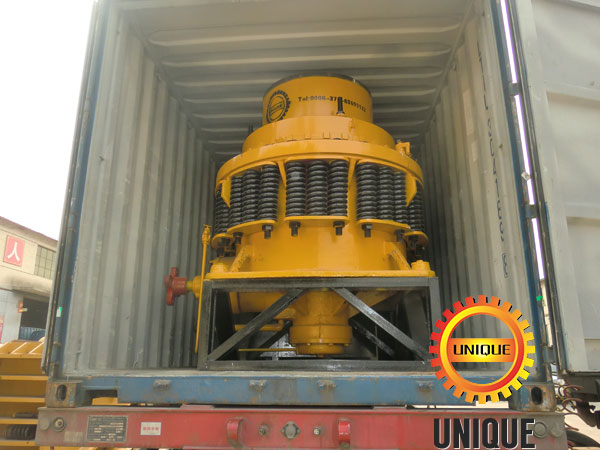 Spring cone crusher is mainly composed of the upper shell, lower shell, inner cone liner (red color), outer cone liner plate (red color), locking spring, main shaft, big gear wheel and pinion gear. The motor of spring cone crusher will drive the pinion gear, and then pinion gear will drive the big gear wheel which finally drives the main shaft and the movable cone.
About the adjustment of discharge opening: the upper shell-1 and upper shell-2 are connected by screw joint. By rotating the upper shell-1 can adjust its height, which indirectly adjusts the distance between the outer cone liner plate and the inner cone liner plate. The adjustment of upper shell-1 is done by a special hydraulic cylinder and ratchet mechanism. Please kindly note that: Do stop the spring cone crusher, when adjust the opened edges of the spring cone crusher.
The upper shell-2 and the lower shell are connected by spring and screw. When tighten the screw, the spring will be compressed, such compress force will tighten the upper shell-2 and the lower shell. When the over hard material or iron fall into the crushing chamber, the distance between the upper shell and the liner plate will become larger, in this way, the material which cannot be crushed will be discharged. The function of spring cone crusher is to protect the crusher from overload. So this crusher is called spring
cone crusher
.
Spring cone crusher is mainly used for secondary and tertiary crushing. Standard type cone crusher is used for secondary crushing, and short head cone crusher for tertiary crushing.