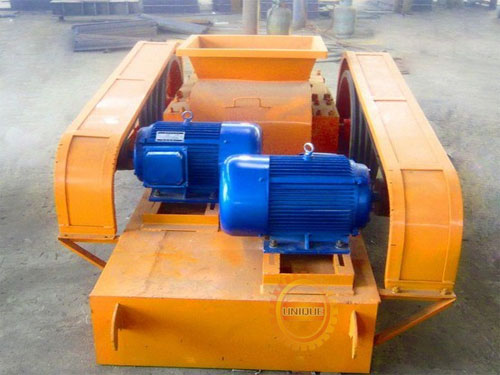 1, User must pay more attention to remove the iron out while feeding materials to the roller crusher. Non-broken object (like bore bit) will damage roller crusher, resulting in a halt accident. So the de-ironing device should be installed in the front of the roller Crusher.

2, the viscous material is easy to plug the breaking space of roll crusher, when user processes such matter, the roller crusher should stop operation, do not stab the material while the crusher is running.

3, if the materials contain many large pieces, note that lump ores will be easily be extruded out from crushing space of roll crusher, should prevent injuries or damage to the equipment or people.

4, after long time operation of double roll crusher, the finish product particle size will be too fine due to the roll surface wear, and then pay attention to adjust the port of discharge or do maintenance to equipment.

5, strengthen inspection of double roll crusher equipment, lubricate the parts need lubricating on time, keep equipment to be well lubricated.

More Information about our crushing machine, please feel free to contact with us by phone or e-mail at any time!