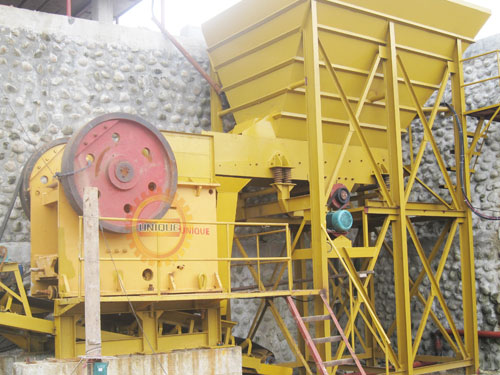 Stone crusher is mainly used to make sands and produce small stone. Stone crusher use one or several working principle to crusher stone. Stone crusher can be divided into many kinds, according to working principle, such as jaw crusher, impact crusher, cone crusher etc. Zhengzhou Unique Industrial Equipment Company mainly supplies stone crushers including jaw crusher, impact crusher, cone crusher, VSI crusher, mobile crusher, hammer crusher etc. According to customer's request, we can configure different sand making production line and stone production line.

Stone crusher is generally installed above the concrete foundation. Based on vibration are directly caused by other machinery and equipment and building structures vibration. Therefore, the foundation stone crusher must be separated with the plant base. Meanwhile, in order to reduce vibration, in the stone foundation and frame machine is placed between the rubber pad.

Proper operation is to ensure a continuous work Stone crusher an important factor. Improper operation or negligence in the operation often caused by equipment and personal accident important reasons. Correct operation is to strictly follow the rules and regulations.

Preparation before the start of work: in the crusher machine starts, it will have the equipment to conduct a comprehensive double-check: Check the wear plate broken teeth; check whether the ore crushing cavity, if large pieces of ore must be removed; connection bolt is loose; pulley and flywheel housings to protect the integrity of; triangle belt and bar spring tightness is appropriate; storage tank (or the dry oil storage device) to fill the oil level and lubrication system intact situation; electrical equipment and signal systems are in working and so on.